Take advantage of our know-how to integrate temperature, humidity and flow sensors to build more sustainable and smart HVAC systems.
Improving indoor air quality while lowering the energy requirements of HVAC systems and switching to environmentally friendly cooling agents is a strong driving force behind new sensor-driven control systems.
Maintaining a temperature-controlled, condensation-free environment within a climate chamber, server rack or the indoor space of an office building is always an active, energy-consuming process. Accurate and reliable monitoring systems are needed to allow higher recirculation and balance air exchange and processing.
Additional measuring points require compact sensor assemblies with function-oriented signal evaluation and long-term stable sensors to achieve reasonable total cost of ownership for the end-users. This trend calls for a modular approach and which is why IST AG provide application specific front-end solutions for flow, humidity and temperature monitoring.
Sensors for HVAC Systems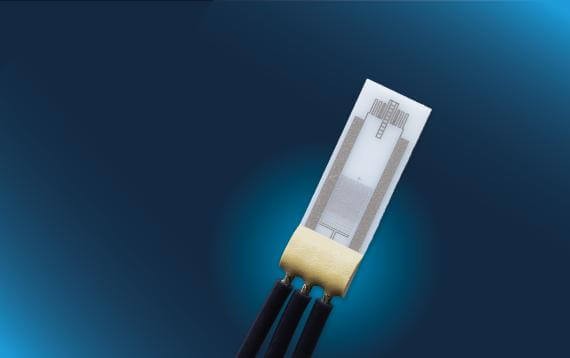 Flow switch in ventilation vent or valve
In modern designs, HVAC systems represent the primary source of fresh air and therefore a minimal flow must be maintained under any circumstances.
Thermal flow sensors, such as our standard FS7 sensor allow for a robust and cost-effective solution to indicate if minimal flow requirements are met behind an actuator or filter. A simple to use evaluation board  enables a fast identification of the optimal measuring point. Talk to our engineering team for integration support to further shorten time to market for new sensor modules.
Read more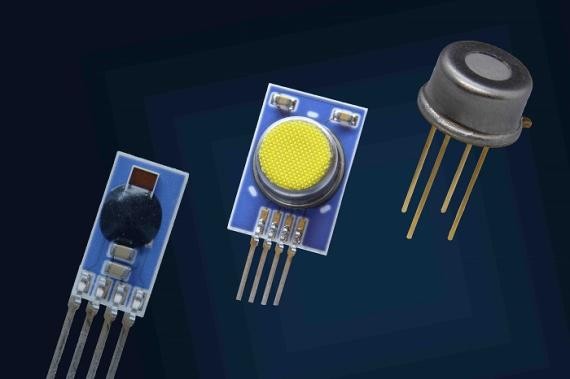 Dew point monitoring in outlet air
Water condensation can be harmful to electronic components, cause biological corrosion or mould overgrowth. This can have health implications, such as allergies or weakened immune system. Drying air by any means is energy-consuming, and too dry air can in itself be harmful.
The management of water vapour content therefore is an integral function of most HVAC systems. Evolving from a simple indoor monitoring of relative humidity to an active air exchange triggered by measurement in the inlet and outlet air stream, the HVAC control system depends heavily on the reliability of the measured values.
IST AG`s HYT humidity modules (HYT 939, HYT 271 and HYT 221) are fitted with a high-precision 9-point factory calibration. A design layout with pins enables plug-and-play connector assembly as well as easy positioning of the RH/T sensor. Optional filters directly on the HYT modules can serve as a miniature housing and protect the sensor from dust, oil droplets or VOC influence, while minimising microclimate effects some larger probe assemblies are prone to.
Talk to our sensor experts and choose the right solution for you: passive sensor components, sensor modules with adequate calibration, OEM modules with suitable housing.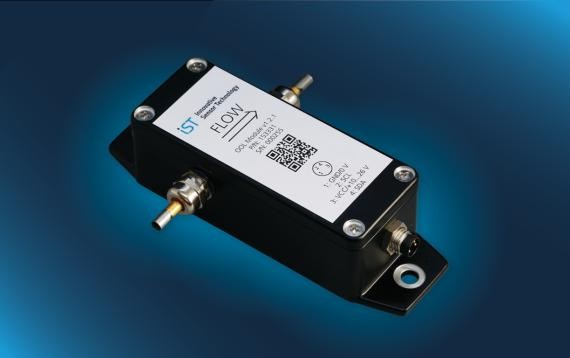 Liquid flow in cooling circuit or heating circuits
Continuous monitoring of flow and temperature in individual cooling circuits is the key to a more effective and thereby energy efficient HVAC system. The OOL Liquid Flow module is a plug-and-play solution suitable for HVAC systems using a liquid (e.g. water, water-glycol or oil) for heat transfer. We`re happy to discuss custom modifications to accommodate individual flow range settings or any to facilitate easy system integration.
Gas analysis with infrared heat sources
The list of indicator molecules monitored in gas analysers located indoors and outdoors is steadily growing and emission parameters like nitrous oxide (N2O) and methane (CH4) join the more established carbon dioxide (CO2) level monitors. If an odour scrubber is in place, monitoring its proper function may require e.g. hydrogen sulfide (H2S) analysis.
With a growing number of indoor HVAC system installations utilising diverse refrigerant gases such as R-507 (pentafluorethane) or R-410A (mix of  pentafluorethane  and difluormethane), the integration of a reliable gas leak detection system gains safety feature status.
Optical sensors operating in the mid-infrared range are employed when a fail-safe solution for refrigerant monitoring is required, because unlike electrochemical, infrared and photoacoustic infrared sensors do not consume oxygen and do not age or get poisoned.
Our infrared emitters provide a powerful light source for gas analysis in the 3-20 µm range and are therefore the right starting point also for IR sensor miniaturisation, cost-performance optimization and the design of multiparametric IR sensors.
High quality humidity sensing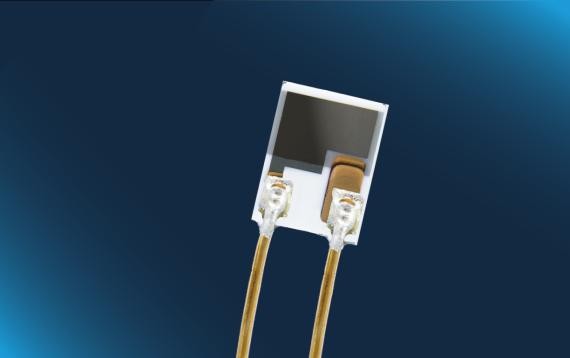 P14 high quality humidity sensing components
The P14 humidity capacitors are passive humidity components. The sensor chip design and the material choice are the result of continuous development supported by an increased demand of quality products in the HVAC market over the last decades. Years of experience today enable measurements even in combination with dew formation and when applied in different gases including several corrosive atmospheres. It provides great stability and long-lasting measurements, because of its waterproof materials such as the ceramic body and proprietary polymer design. This is the number one choice for HVAC sensing manufacturers intending to integrate the P14 humidity chip capacitor into their own electronics and calibration capabilities. Our P14 humidity sensors are used in high quality air ducts, temperature and humidity transmitters, thermostats.
Read more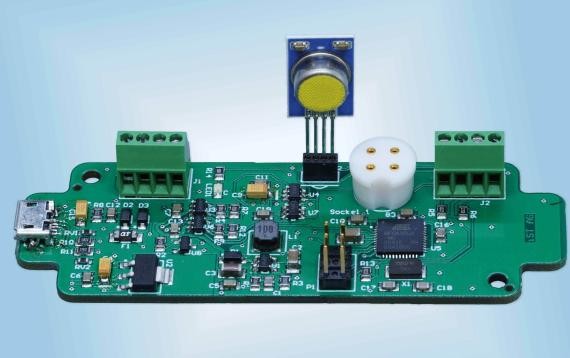 HYT calibrated digital humidity and temperature modules
The HYT humidity modules are the result of a development to integrate the high quality P14 humidity sensing components into a digital and fully calibrated temperature and humidity module for high end HVAC applications. A nine-point calibration takes place to assure high accuracy over a wide temperature and humidity band width, while the correct material choice such as alumina ceramics as substrates provides longevity and satisfactory results not only on the data sheet. The sensor component as well as its surrounding materials are engineered to guarantee almost zero moisture absorption and to prevent misreading due to false water/moisture sources.
HYT modules are provided in exposed sensor element versions, as well as two filter cap versions (mechanical protection) for simple integrations in air duct transmitters, compressed air transmitters or wall mount thermostats.
Our three HYT models can be ordered with a tailored calibration, which allows an accuracy of better than +/- 1.4 % rh when used in combination with a limited range of 0-50 % rh. Our humidity modules can be operated at a very high accuracy, when prepared and calibrated for specific environments.
Read more
Gas flow sensors and liquid flow modules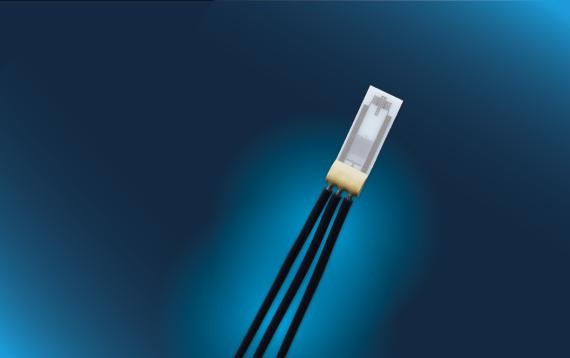 FS7 simplified thermal mass flow sensors
FS7 flow sensors were developed with the idea of a simplified chip integration towards a thermal flow transmitter for HVAC applications. One single chip with a dual resistor structure was achieved that can work with a basic circuit that enables the measurement of a constant anemometer principle. Highest possible sensitivity is achieved through a direct immersion of the chip into the air flow. A measurement in the typical HVAC air duct flow speed range between 0 m/s to 25 m/s or more is possible.
The main advantage of the FS7 is the high sensitivity especially at lower flow rates 0 m/s to 2 m/s, while performing within a wide dynamic range at the same time. Applied in CTA mode (constant temperature anemometer mode), the FS7 can read from 0…100 m/s flow speeds. 
The FS7 is found in various applications, such as classic air duct flow transmitters or handheld devices to control air conditioning systems, at the tip of a retractable monopod.
Due to its low-cost implementation it is used for filter monitoring in combination with air purifiers. High performance applications are aspiration fire detectors and compressed air mass flow metering transmitters where often a custom chip design or a separated heater and sensor chip are used to increase sensitivity. Take advantage of decades of chip, electronics and design integration experience for HVAC applications at IST.
OOL flow modules for leakage detection
Leakage detection
Badly sealed plumbing or old and rusty pipes can cause severe damage to a building. Undetected leaks from rusted pipes can gradually result in rotting walls, ceilings, or floors. The humid environment results in dangerous mildew requiring laborious and costly renovations.
With IST AG's leakage detection Flow OOL-module such damage can easily be prevented. The OOL module is equipped with a highly sensitive flow sensor component, which can detect the smallest liquid flow quantities with an accuracy of <3% F.S. and a repeatability of < 0.3 % F.S. (value for DI-H2O in temperature range of +5 to +50°C) in a response time of 500 ms.
The module is installed at the entrance of the house or per floor in an apartment building. The Flow OOL module sends a signal to the surveillance device immediately upon detecting even the smallest leakage in heating or plumbing, thereby enabling the proprietor to identify the cause of the leakage.
Low power mass flow sensors for wireless applications
The motivation to develop MFS02 and SFS01 technology sensor chips was to enable ultra-fast and ultra-sensitive flow measurements and at the same time enable battery powered flow metering devices for HVAC systems.
The MFS02 is developed on a compact chip design using a glass substrate while the SFS01 uses a silicon substrate. The active chip components are situated on a very thin membrane, allowing flow measurements while taking advantage of a very small thermal mass. The result is a response time of less than 10 ms in the case of MFS02 and less than 5 ms in the case of SFS01, but also provides a low power solution to the typically very power-hungry hot wire anemometers.
The low power consumption is especially advantageous for battery-powered wireless HVAC devices. An ultra-sensitive measurement in differential pressure applications can also be achieved through a noise free resolution down to 5 mPa.
The sensors are integrated in positive pressure ventilation systems (clean rooms, hospitals), filter monitoring, flow/glow box, micro fluidic gas applications and ​battery-powered devices.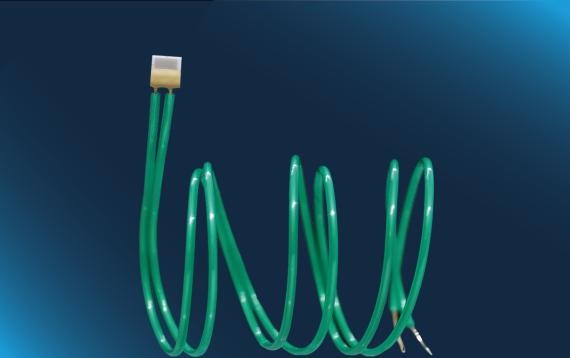 The right temperature sensor for your application
Smart HVAC systems provide more than just smart and remote temperature control. Imagine your HVAC system alerting you when it needs a repair or routine maintenance check. New sensors in the thermostat, compressor or other parts can regulate how the system runs and tell you only when maintenance is really needed. All technologies aim to run the systems more efficient and at lower costs. However, no matter how smart and efficient a system is and no matter how much functionality and connectivity you plan to incorporate in the new generation of HVAC products, in the end you will always be in a strong need of reliable and stable sensing components. All the smart algorithms are only as good as the raw data provided from the sensor chip in the first place.
Temperature regulation through zoning, which allows different temperatures to be set in different areas of a building, various bedrooms can even have their own temperature settings based on the occupant's personal preference. These developments not only boost convenience and lower utility bills, but also  have the potential for a global impact on sustainability .
With continuously expanding product portfolio of thousands of temperature sensors, we are sure to be able to provide your application with the perfect fit!
Find a temperature sensor