Silicon Flow Sensor SFS01
Optimal for fast measuring of gas flow and direction
Flow range from 0 to 3.5 m/s, 0 °C to + 80 °C, with very fast response time and low energy consumption.
Flow direction
Two directions (kalorimetric)
Chip size/dimensions
6.0 x 2.0 x 0.525 mm
Connection type
Bonding Pads
Flow range full bridge mode
0 to 3.5 m/s
Response sensitivity
0.01 m/s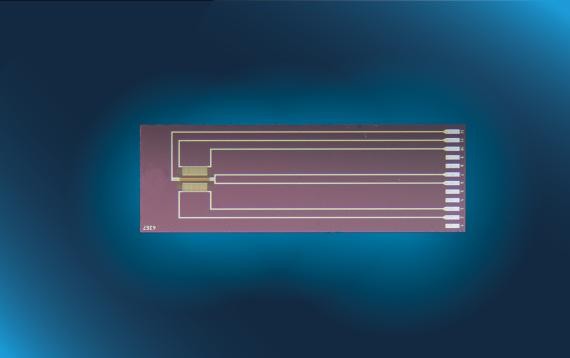 Product details
Benefits & Characteristics of the SFS01
Very fast response time <5 ms
Very low energy consumption
Easy system integration including temperature compensation
Product description SFS01
The SFS is IST AG's first flow sensor based on silicon technology. It is operated according to the calorimetric principle and can therefore detect not only the flow velocity but also the flow direction.
The symmetrical design of the SFS flow sensor allows an easy interpretation and evaluation of the measurement signal. The sensor can be used in different gases. It is characterized by a high sensitivity, a very fast response time and an extremely low energy consumption.
Well-adapted channel geometries allow the performance of the sensor to be optimally aligned to the desired application. The SFS01 flow sensor is ideally suited for space-limited applications, but can also be easily upgraded to complete ready-to-use systems.
Suitable application areas for the SFS01 flow sensor are flow measurements in battery-operated / portable devices, air conditioning technology (HVAC), automation technology as well as process and control engineering.