Capacitive Humidity Sensor P14 Rapid-W (140pF +/-40 pF)
Capacitive humidity sensor P14-Rapid with wires. Stable and robust humidity sensor with very fast response time,
The P14 Rapid-W is optimal for meteorology applications like weather balloons and radiosondes.  -80 °C to +150 °C, 5.0 x 3.81 mm, 10 mm wires
Product Name
P14 Rapid-W (140 +/-40pF)
Capacitance
140pF +/-40pF (at +23 °C and 30 % RH)
Operating humidity range
0 % RH to 100 % RH
Dimensions
5.0 x 3.81 x 0.4 mm
Wire dimensions
Ø 0.4 mm, 10 mm long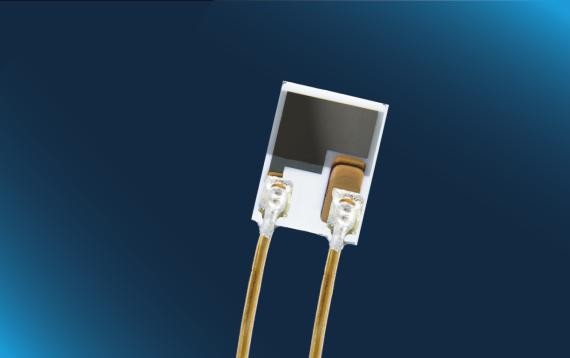 Product details
P14 Rapid - Optimal for weather balloons and radio sondes
Stable and robust humidity sensors with ultra-fast response time are often required in applications involving meteorology – not only in normal conditions, but also under elevated environmental constraints such as extremely low temperatures, high radiation levels and under extreme condensation. Such applications need fully tailored solutions, such as those provided by the Innovative Sensor Technology IST AG P14 Rapid. The P14 Rapid humidity sensor combines speed and full range operation in an ideal way. The sensor is capable of measuring 0 % RH to 100 % RH (maximal dew point +85 °C) with a capacitance of 140 pF ±40 pF (wired) / 180 pF ±50 pF (SMD) (at 30 % RH and +23 °C) and operates within a temperature range of -80 °C to +150 °C.
Benefits & Characteristics of this humidity sensor
High chemical resistance
Very low drift
Wide temperature range
High humidity stability
Resistance to condensation
Fast recovery time
Alternative wires
The IST AG P14-W humidity sensor is available with CuP-SIL-wire post-plated with Sn, Au/Cu-wire or as SMD for automatic packaging as standard.
Quality
Consistent with the well-known, high-quality standards in Switzerland, IST AG is certified according to ISO 9001:2015 (quality) and ISO 14001:2015 (environment). Appropriate processes are part of our daily work. They are regularly audited and extended parallel to the growth of our company.