OOL Sensor Evaluation Kit
Flow Evaluation Board FS/OOL + OOL liquid sensor. Evaluation electronics for anemometric (termal) flow sensors
Analog CTA circuit with voltage output, non-linear signal relative to power (w/o temp. compensation), shipped with OOL liquid mass flow sensor (4 mm o.D.). Variable sensitivity settings.
Test OOL sensors in your application!  
Product Name
Flow Eval Board FS/OOL + OOL liquid sensor
Operating temperature range
-40 °C to +85 °C (module)
Housing dimensions
40 x 4 (3.7) mm L x o.D. (i.D)
Fluidic connection
Tubing with 4 mm inner diameter
Flow channel inner dimensions
Ø 3.7 mm
Flow channel length
40.0 mm
Wetted materials
Stainless Steel 1.4301
Connection type
PCB connector
Supply voltage
5V DC +/-5%
Output signal
0 V to 10 V analog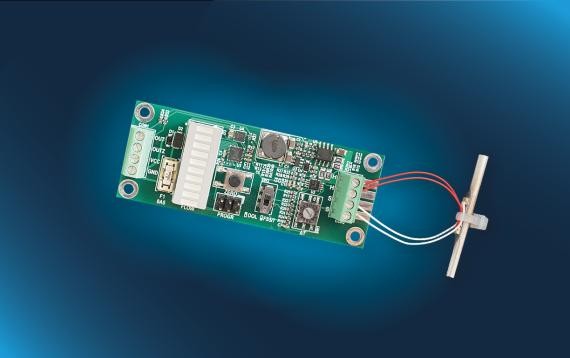 Product details
Product description of EvaKit OOL Flow module
Accurate, robust and ready-to-use: The compact and corrosion-resistant module is suitable for flow monitoring and leakage detection of various liquids.
Suitable for a wide variety of applications from cooling circuits, dosing pumps, white goods, CIP systems for food industry, agricultural machines, industrial wet vacuum cleaners, to gear oil supply machines used in metalworking and mining.
This thermal flow module allows continuous monitor systems responsible for temperature control, pumping, filling or leakage detection. Industrial applications include process control (coolants, lubricants, cleaning solutions), as well as dosing systems (food, life science, agriculture, white goods). A wide dynamic range with high sensitivity at low flowrates make IST`s OOL flow module suitable also for drip detection, including water leakage early warning systems.