Silicon technology
With the growing demand of miniaturization, the requirements of micro electro-mechanical systems for ever smaller and thinner sensors are being met with our continuously expanding portfolio of silicon-based MEMS sensors.
Our know-how and partner network combined provide the best possible support for our customers to realize their innovative silicon-based sensors using well established MEMS processes for applications that support annual quantities from a few thousand to several million sensors.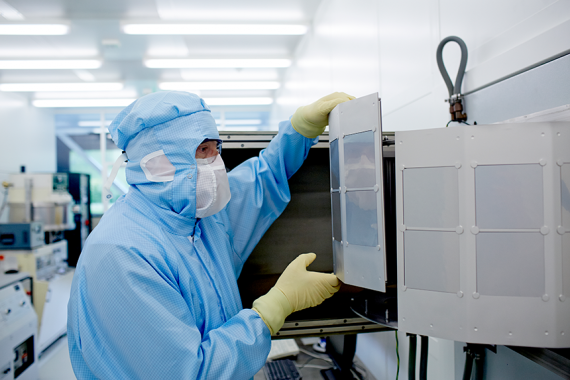 Processes
Our state-of-the art production facilities allow for access to most known silicon micromechanical processes:
PVD, LPCVD, PECVD, CVD
thermal oxidation
lithography
dry etching (RIE, DRIE)
wet chemical processes
screen printing
laser trimming
wafer bonding and wafer dicing
Quality
In addition to the standard production quality control (wafer probing, manual and automated optical inspection, …) IST has a large number  of specialized analysis tools available:
SEM/EDX, XRF, µCT, 3D laser microscopy, are some of the in-house tools that  enable a fast development process.
The image shows a 3D laser microscopy of a micro-hotplate on a SiN based membrane comprising polysilicon heaters, thermopiles and a heat spreader before and after annealing.
In close cooperation with customers and technology partners we have realized a great number of silicon-based projects

Dr. Joachim Nurnus, Project Leader New Sensor Principles
Pt-based temperature sensors and heaters on silicon substrates
Combining IST's many years of expertise in the field of resistive temperature detectors (RTDs) with the possibilities of silicon micro processing a 150µm thin silicon device comprising a Pt based heater and temperature sensor arranged around a dry etched center hole was successfully realized within a customer project.
Within a strategic project our production facilities are expanded to accomodate deposition and patterning of IST's well investigated temperature sensor materials such as Pt and Ni on 150mm silicon substrates.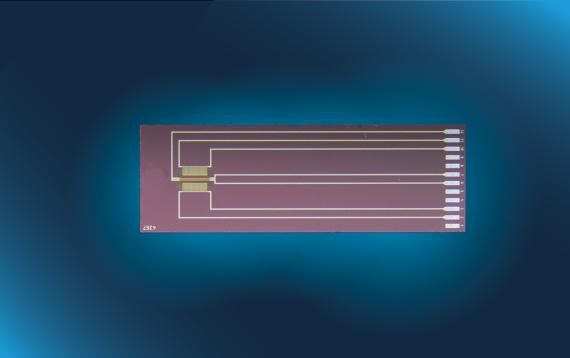 Silicon based temperature sensors (thermopiles) and heaters on silicon substrates
Our standard silicon flow sensor SFS01 includes a polysilicon heater in the middle of 2µm thick SiN membrane and two symmetric polysilicon – aluminum thermopiles for flow direction detection.
The standard sensor chip SFS01 covers a wide dynamic range and flow rates beyond the required flow volumes for e.g. a respirator application. With a T63 of 5 ms, the SFS is suitable for inhalation and exhalation monitoring with a single sensor thanks to its clear flow direction detection.
Read more
Ultra-thin piezoresistive Silicon strain gauges
Piezoresistive (pressure-resistive) sensors change their resistivity due to the application of a force. Due to the high gauge factor of silicon these piezoresistive silicon strain gauges have much higher sensitivities compared with the widespread metal strain gauges. A production and handling technology for only 15µm thin devices was developed for 200mm silicon substrates.
Piezoresistive sensors made of silicon can be manufactured very small and inexpensively.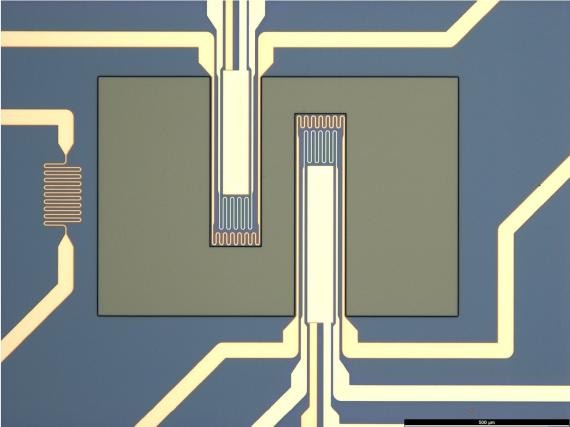 Piezoelectric devices
Piezoelectric materials such als AlN generate a voltage when a mechanical force is applied or generate a mechanical force when a voltage is applied.
In cooperation with TrueDyne a production technology for realizing novel piezoelectric resonant gas sensor MEMS chips was successfully optimized. The image shows a MEMS cantilever chip with reference temperature sensor and two piezoelectric AlN cantilevers with integrated thin film temperature sensors and heaters.
MEMS integration / packaging
Application specific ceramic PCBs for packaging the silicon chips are available using the in-house screen-printing technology. Thanks to their thick film contacts the chips can be electrically interconnected by soldering, brazing or wire bonding. The image shows Ceramic PCB designed for TrueDyne MEMS cantilever chip integration by soldering.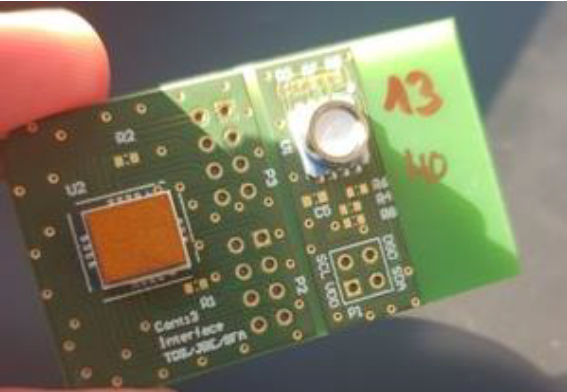 MEMS technology support
With our know-how and partner network, we support our customers in realizing their innovative silicon-based sensors with MEMS technologies for applications that support annual quantities from a few thousand to several million sensors.
TrueDyne electronic circuit with integrated resonant MEMS cantilever for measuring density, viscosity and thermal conductivity of process and combustion gases (incl. hydrogen in natural gas) as well as direct calorific value measurement.