SFS Module 1000 sccm
Thermal mass flow module with linearized digital / analog output
Fast and compact flow module, suitable for gas dosing systems, manifolds and analysers. Easy to integrate with compact design, factory calibration and pins for HW address setting
This module is also available with different flow rate ranges:
Product Name
SFS01-M-01000
Operating temperature range
0 to 80 °C
Housing dimensions
48 x 34 x 14.5 mm
Housing material
Aluminium, FR4
Fluidic connection
Ø 2.2 mm i.D. flat gasket
Connection type
PCB connector JST SM08B-SRSS-TB
Supply voltage
5V DC +/-5%
Output signal
I2C or 0 to 1 V
Accuracy
2% f.s. (digital output)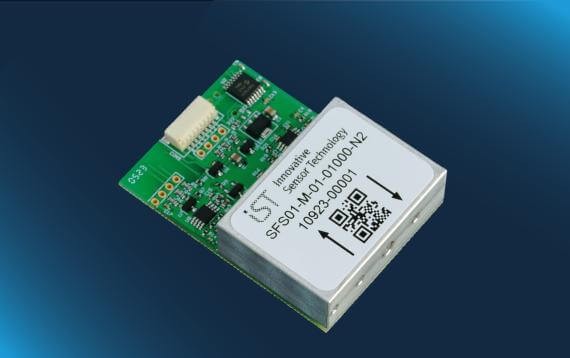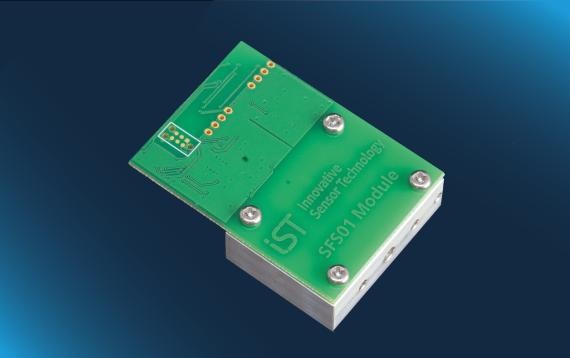 Product details
Benefits & Characteristics of the SFS01
Very fast response time <5 ms
Very low energy consumption
Easy system integration including temperature compensation
Product description SFS01
The SFS is IST AG's first flow sensor based on silicon technology. It is operated according to the calorimetric principle and can therefore detect not only the flow velocity but also the flow direction.
The symmetrical design of the SFS flow sensor allows an easy interpretation and evaluation of the measurement signal. The sensor can be used in different gases. It is characterized by a high sensitivity, a very fast response time and an extremely low energy consumption.
Well-adapted channel geometries allow the performance of the sensor to be optimally aligned to the desired application. The SFS01 flow sensor is ideally suited for space-limited applications, but can also be easily upgraded to complete ready-to-use systems.
Suitable application areas for the SFS01 flow sensor are flow measurements in battery-operated / portable devices, air conditioning technology (HVAC), automation technology as well as process and control engineering.
Quality
Consistent with the well-known, high-quality standards in Switzerland, IST AG is certified according to ISO 9001:2015 (quality) and ISO 14001:2015 (environment). Appropriate processes are part of our daily work. They are regularly audited and extended parallel to the growth of our company.
Related downloads