MFS02 on PCB (exposed)
Gas flow sensor with flow range from 0 to 1.5 m/s (full bridge mode), temperature range from -20 °C to +80 °C, fast response time, mounted on a PCB for easy integration
MicroFlowSens technology for fast flow measurements. Thermal gas flow sensor with ultra low thermal mass resulting in high sensitivity and fast response time.
Product Name
MFS02.PEXP.0
Flow direction
Two directions (kalorimetric)
Operating temperature range
-20 °C to +80 °C
Chip size/dimensions
5.0 x 3.4 x 0.5 mm; PCB: 34.2/37.4 x 10.8 x 1.0/2.0 mm
Connection type
Solder contacts
Flow range full bridge mode
0 m/s to 1.5 m/s resp. 0 ml/min to 100 ml/min
Flow range CTA mode
0 m/s to 150 m/s resp. 0l/min to 10 l/min
Response time t63
< 10 ms
Response sensitivity
0.0003 m/s (20 µL/min)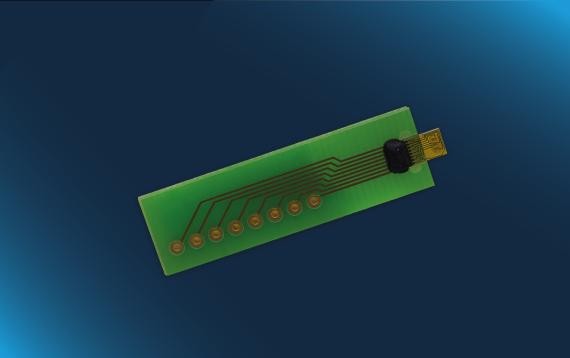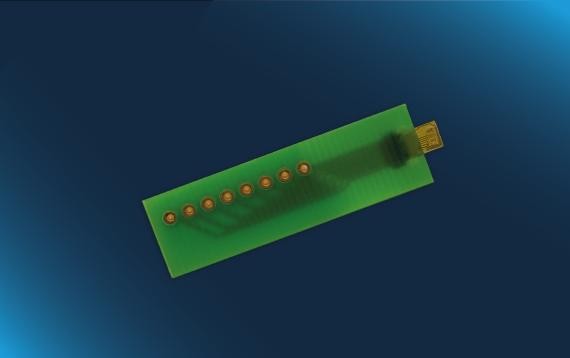 Product details
Benefits & Characteristics of the MFS Micro Flow Sensor
Excellent solution for applications with high flow rates and fast response time in CTA mode
Very high measuring dynamic with CTA mode (10'000'000 : 1) without bypass
Excellent for the measurement of very low flow rates and leakage detection with bridge mode
High chemical resistance against aggressive gases and vapors
Different sensitivities and circuit topologies available
Detection of flow direction
Product description MFS - Micro Flow Sensor
The IST AG MicroFlowSens (MFS) technology was developed for fast flow measurements. Due to the membrane system, the thermal mass is reduced to the minimum resulting in a very fast response time and low power consumption. In addition to measuring flow rates, the MicroFlowSens offers an outstanding sensitivity and is able to detect flow direction. The MFS flow sensor is optimal for limited space system integration and is available as integrated sensor on a PCB.
The MFS thermal flow sensor can be used in a wide flow range from 0 to 150 m/s (CTA mode) and in a temperature range from -40 °C to +80 °C. It is used for flow measurement of a wide variety of gases. A special feature of the MFS sensor is that it is also suitable for industrial flow applications with smoke or exhaust gas development. The MFS sensor can be operated in either anemometric or calorimetric mode. It is also suitable for measuring the flow direction. MFS flow sensors are based on a photosensitive glass substrate with a thin polymer layer that serves as a membrane.
The IST AG MFS gas flow sensor is optimal for measurements in process control, hand held devices and in medical applications.