Conductivity sensor LFS1305 with integrated temperature sensor
Optimal for applications with a conductivity measuring range from 100 μS/cm to 200 mS/cm (typical cell constant of 0.68 cm -1) with integrated Pt1000 temperature sensor
Conductivity sensors for water quality and waste water treatment applications.
Product Name
LFS1K0.1305.6W.B.010-6
Conductivity range
100 µS/cm to 200 mS/cm
Cell constant
typical 0.68 cm-1
Layout
4 electrodes and integrated temperature sensor (Pt1000, class F0.3)
Operating temperature range
-30 °C to + 100 °C
TCR temperature sensor
Platinum 3850 ppm/K
Nominal resistance
1000 Ω at 0°C
Tolerance/class
IEC 60751 F0.3 (Class B)
Chip size/dimensions
12.9 x 5.5 x 0.65 mm
Wire dimensions
Ø 0.2 mm, 10 mm long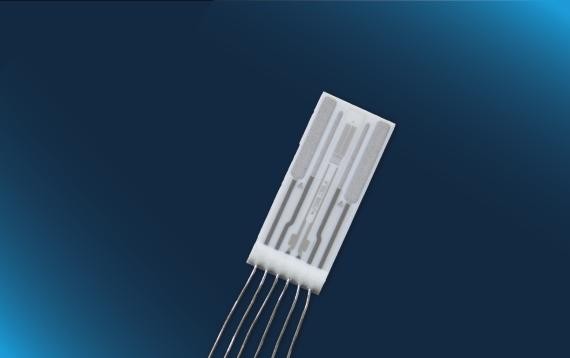 Product details
Benefits & Characteristics of the conductivity sensor
Wide conductivity and temperature range
Fast response time
Optimal accuracy
Resistance to various chemicals1)
Excellent long-term stability
Four-electrode measurement2)
Customer-specific sensor available upon request
Usage
Conductivity sensors play an important role in determining water quality and are able to measure the conductivity of most electrolyte solutions. IST AG conductivity sensors are an ideal choice for water quality and waste water treatment applications, amongst others.
Note
Aggressive media can influence the long-term stability. Chemical resistance of the sensor in the end application must be tested by the customer.
Quality
Consistent with the well-known, high-quality standards in Switzerland, IST AG is certified according to ISO 9001:2015 (quality) and ISO 14001:2015 (environment). Appropriate processes are part of our daily work. They are regularly audited and extended parallel to the growth of our company.