RH/T module for moisture in oil monitoring
Fully calibrated, ready-to-use assembled RH/T module in screw-in assembly 
Factory calibrated with 0..100%RH / -40..+120°C ranges and a digital I²C interface; assembled into a stainless steel housing with a  M14x1.5mm thread; with 500mm 4xAWG26 cable
Ideal for the continuous monitoring of water content in industrial oils.
Product Name
Moisture in oil sensor
Operating humidity range
0 % RH to 100 % RH
Operating temperature range
-40 °C to +120 °C
Accuracy humidity
± 3 % RH at + 23 °C
Accuracy temperature
±0.2 °C
Digital interface
I²C, default address 0x28
Current consumption
< 1µA in sleep mode, < 22µA at 1Hz measuring rate
Dimensions
67 x 18 mm L xØ
Connection type
4xAWG26 cable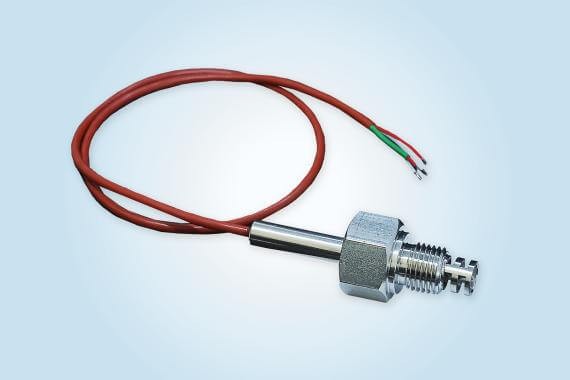 Product details
Option: High-end humidity calibration HYT modules
With the development of a high end humidity calibration and measurement set up, the HYT sensor family boasts the accuracy of up to +/- 1.4 % RH and sets new standards for moisture measurement with low hysteresis and easy plug-and-play interchangeability.
Our three HYT models can be ordered with a tailored calibration, which allows an accuracy of higher than +/- 1.4 % RH when used in combination with a limited range of 0-50 % RH. For dew point applications measuring in the range of 0-5 % RH, you can even reach an accuracy of < +/- 0.5 % RH.
Contact our experts for more information.
Quality
Consistent with the well-known, high-quality standards in Switzerland, IST AG is certified according to ISO 9001:2015 (quality) and ISO 14001:2015 (environment). Appropriate processes are part of our daily work. They are regularly audited and extended parallel to the growth of our company.