Pt100 class F0.3 up to 600 °C in round housing
Round-housed thin-film RTD component, temperature range -200 °C to +600 °C, Ø 2.8 mm x 13 mm long
Platinum temperature sensor 100 Ω in round housing, with Pt/ni-wires
Product Name
P0K1.281.6W.B.007.R
Nominal resistance
100 Ω at 0 °C
Operating temperature range
-200 °C to +600 °C
Tolerance/class
IEC 60751 F0.3 (IST AG tolerance class B)
Connection type
Pt/Ni-wire, Ø 0.2 mm
Package/housing
in round housing, Ø 2.8 x 13 mm long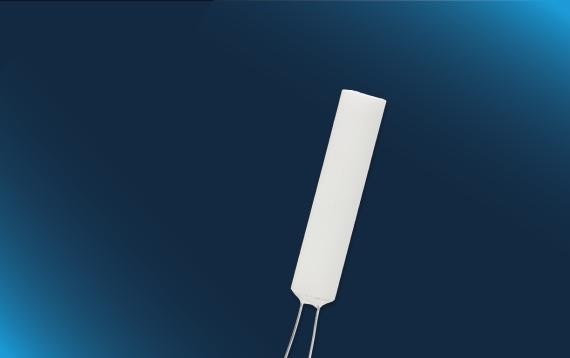 Product details
Platinum Sensors
Innovative Sensor Technology IST AG platinum temperature sensors provide solutions for extreme temperature applications and are designed with the highest quality materials, allowing them to operate within a wide temperature range of -200 °C to +1000 °C. Standard IEC 60751 sensors are offered in class F0.3 (0.12 %), class F0.15 (0.06 %), F0.1 (0.04 %), and higher accuracies upon request.Our sensors are available in wireless (SMD) and wired configurations, and in sizes ranging from 0.75 mm to 10 mm (L), and 0.75 mm to 5.08 mm (W). Standard sensors can be customized with a variety of lead wire material, insulations, length, and configurations.
With many years of experience, IST AG also offers development of customer-specific applications in terms of sensor technology development and consultation. As part of the standard development process, IST AG offers support at the point of implementation - this way we ensure the best sensor solution for specific applications.
Quality
Consistent with the well-known, high-quality standards in Switzerland, IST AG is certified according to ISO 9001:2015 (quality) and ISO 14001:2015 (environment). Appropriate processes are part of our daily work. They are regularly audited and extended parallel to the growth of our company.