Humidity module with integrated Heater
RH/T module with integrated heating structure and particle filter for applications demanding long-term stable humidity monitoring.
A fully integrated platinum microheater allows for on-demand / periodic heating and highly effective sensor reconditioning by purging at >120°C. The HYT 223 is the high-reliability, low-maintenance solution for stationary process control and mobile devices, where a fast and precise humidity measurement is required.
A PTFE filter protects the sensor from VOCs and particles effectively, further minimizing long-term drift effects.

Heater operating power: 7..9V, max. 720 mW 
Operating humidity range
0 % RH to 100 % RH
Operating temperature range
-20 °C to +120 °C
Accuracy humidity
±1.8% RH (0 - 90% RH), ±3%(>90%RH) at 0 - +60°C
Accuracy temperature
±0.2 °C
Digital interface
I²C, default address 0x28
Current consumption
< 1µA in sleep mode, < 22µA at 1Hz measuring rate
Dimensions
11.75 mm x 10.2 mm (L x W)
Wire dimensions
10.5 x 0.5 mm (LxW)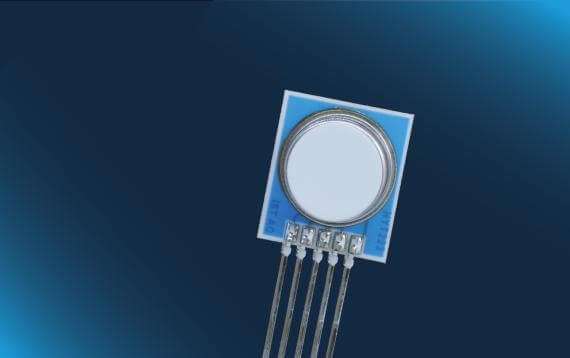 Product details
Benefits & Characteristics of the HYT 223
Factory-calibrated humidity and temperature module with I2C outputs, integrated ceramic microheater for an effective reconditioning of the capacitive humidity sensor, VOC protection, suitable for monitoring processes with high humidity (incubators, greenhouses) or chemicals requiring degassing to avoid drift (swimming pools, cheese production, animal farms) .
Quality
Consistent with the well-known, high-quality standards in Switzerland, IST AG is certified according to ISO 9001:2015 (quality) and ISO 14001:2015 (environment). Appropriate processes are part of our daily work. They are regularly audited and extended parallel to the growth of our company.