Conductivity sensor LFS1505.2L.20-4
Commodity conductivity sensor with four-electrode measurement.  Measuring range from 1000 μS/cm to 100.000 mS/cm (typical cell constant of 0.66 cm-1)
For various conductivity measurement applications.
Product Name
LFS1505.2L.20-4
Conductivity range
1000 μS/cm to 100 mS/cm
Cell constant
typical 0.66 cm-1
Operating temperature range
-30 °C to + 100 °C
Chip size/dimensions
14.9 x 5.5 x 0.65 mm
Connection type
Cu/Ag-wires, AWG28, PTFE insulated
Wire dimensions
Ø 0.2 mm, 20 mm long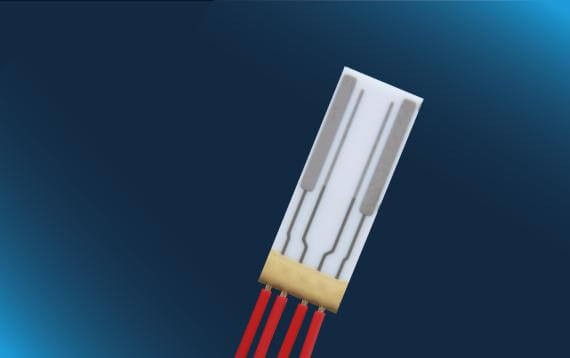 Product details
Benefits & Characteristics of the conductivity sensor
Wide conductivity and temperature range
Fast response time
Optimal accuracy
Resistance to various chemicals1)
Excellent long-term stability
Four-electrode measurement2)
Customer-specific sensor available upon request
Quality
Consistent with the well-known, high-quality standards in Switzerland, IST AG is certified according to ISO 9001:2015 (quality) and ISO 14001:2015 (environment). Appropriate processes are part of our daily work. They are regularly audited and extended parallel to the growth of our company.
Related downloads