Jobst Technologies ISO 9001 certification
After fulfilling the stringent requirements, Jobst Technologies GmbH was certified according to ISO 9001:2015 by the accredited certification company Bureau Veritas.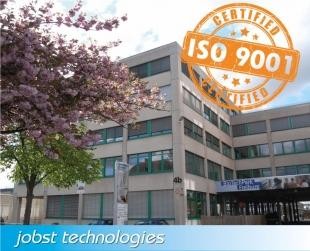 The certification of the quality management system according to DIN EN ISO 9001 is recognized as the world's leading standard for efficient quality management systems for companies.
The successful certification of Jobst Technologies is the result of intensive work, which was carried out in cooperation with the quality management of the Swiss parent company, Innovative Sensor Technology IST AG.
"We are proud to have been certified according to ISO 9001: 2015, a standard that guarantees that our products and services meet the requirements of customers and the regulations of the authorities through a highly effective quality management system," says Gerhard Jobst, Managing Director of Jobst Technologies. He adds: "Defined work processes make a decisive contribution to the quality of our production process. They increase efficiency as well as sustainably and improve our structures." Dr. Florian Krogmann, Chief Research & Development Officer of Innovative Sensor Technology IST AG, summarizes: "The ISO 9001 certification is a great success for Jobst Technologies and an important milestone for the application and further development of the products".
With its re-certification according to ISO 9001 and ISO 14001, Jobst's parent company, Innovative Sensor Technology IST AG, once again proves the high-quality standard in the development and manufacturing of sensors.