A recent addition to the IST network is Infrasolid. Founded in 2017, Infrasolid develops and manufactures infrared radiation sources with a patented nanotechnology in combination with the self-supporting monolithic structure. The advantages of Infrasolid's IR emitters are countless.
Patented infrared radiation sources from Germany
About Infrasolid
Infrasolid is a high-tech company based in Dresden, Germany, which develops and manufactures high-performance infrared radiation sources for use in NDIR gas analysis and IR spectroscopy. Typical applications are in the fields of environmental protection, exhaust gas measurement, explosion and fire protection, in building services engineering and medical technology.
INFRASOLID® - New technologies for reliable infrared radiation sources
The outstanding properties and the high miniaturization potential enable smaller, more powerful, and more efficient material analysis and gas measurement devices for a wide variety of applications. The low energy consumption, the high efficiency and the small size allow its use in portable, battery-powered, and mobile applications. Especially growing environmental, safety, and health awareness as well as increasing automation are creating a growing demand for reliable gas sensors, gas monitors and material analysis devices in industrial and consumer applications.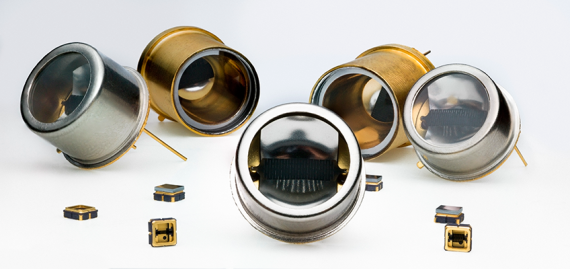 Hermetic housing technology
Unique TO-8 housing
Infrasolid has developed a unique packaging process for its infrared radiation sources in TO-8 housing. Special soldered filter windows in hermetically sealed TO-8 housings have a broadband optical output and can be used in harsh industrial environments.
The CaF2, BaF2 and sapphire windows make the radiation sources impenetrable for gases. While standard glued windows are often affected by permeation of vapor or gases, the hermetic housing technology remains free of contamination.
The hermetically sealed housing makes the emitters suitable for usage in harsh industrial environments, explosion-endangered applications, corrosive gas mixtures, high temperature, high partial gas pressure and high humidity.
The hermetic sealing allows the use of special inert protective (noble) gases inside the package, decreasing energy consumption and increasing efficiency. Using Infrasolid's hermetic housing technology provides long-term stable and highly efficient infrared radiation sources for gas sensors and gas monitoring, material analysis as well as infrared spectroscopy.
Nanostructure technology
Patented infrared emitter set-up
Infrasolid's infrared radiation sources are pulsable thermal emitters with a near black-body emittance. The technology is based on a patented emitter set-up  with patented nanotechnology made of high-melting metal. The free-standing monolithic radiating element with the nanostructured emitter surface offers numerous advantages for many applications.
The nanostructured emission layer consists of metal nanorods made by an unique PVD process. It provides a broadband and highly efficient emission of infrared radiation. To increase the optical output power the coating can be applied on both emitter sides by using the backside emitted radiation with the aid of a gold-plated reflector.
By adapting the nanostructured surface, the emission spectrum can be influenced and adapted to specific applications. Energy consumption can be reduced by not generating radiation in the unnecessary wavelength ranges. The unique and patented manufacturing process enables the flexible production of different emitter area geometries and an easy adaptation to customer-specific applications. The infrared radiators are available in an open version and in a hermetic housing.
Applications
Infrasolid products are found in products and applications across a wide range of industries, in medical applications, used in safety enineering and environmental protection, the oil and gas industry, in science labs for elemental analysis and many more.
Gas analytics
Measuring gas concentrations
Our IR emitters are used in NDIR infrared measuring instruments for measuring gas concentrations. This method uses an infrared light source to irradiate the gas to be measured in a closed room.
Spectroscopy
Determination of organic molecular compounds
Infrared spectroscopy is a typical field of application for our emitters. It is a physical method for the non-destructive determination of mostly organic molecular compounds. 
Smart applications
Miniaturized versions
Infrasolid's miniaturized SMD version opens a great number of possibilities for low-cost mass production in the consumer sector. It is ideal for smartphone-, smart home- and automotive applications.
Infrasolid GmbH
Gostritzer Strasse 61-67
01217 Dresden
Germany