Nickel temperature sensor 1000 Ω with flat wires
Ni 1000 Ω -60°C to +200 °C, 5 x 2 mm, class B, 7 mm Au-coated Ni flat wires
Nickel temperature sensor 1000 Ohm with TCR 6180 ppm/K with gold coated nickel flat wires offer excellent long term stability and simple linearization. Their directly welded wires make it very robust and vibration and shock resistant.
Product Name
ND1K0.520.2FW.B.007
Nominal resistance
1000 Ω at 0 °C
Operating temperature range
-60 °C to +200 °C
Chip size/dimensions
5.0 x 2.0 x 1.3 mm
Tolerance/class
DIN 43760
Connection type
Au-coated Ni flat wire, 0.2 x 0.4 mm (only < 600°C)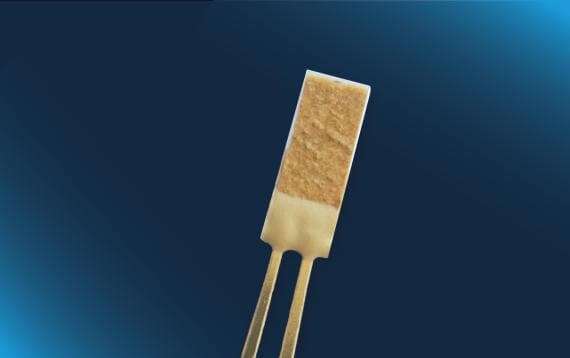 Product details
Nickel sensors
Our nickel temperature sensors provide solutions for precise temperature measurement applications. The sensors operate within a temperature range of -60 °C to +300 °C and are available with various TCRs such as 6180 ppm/K (Nickel ND), 5000 ppm/K (Nickel NL), 6370 ppm/K (Nickel NJ), 6720 ppm/K (Nickel NA) and different Balco polynomials.
IST AG Ni temperature sensors are available in SMD and wired configurations, and in sizes ranging from 2 mm (L) x 1.2 mm (W) to 10 mm (L) x 5 mm (W). Standard sensors can be customized to fit application-specific requirements with a variety of wire material, length, nominal resistance, TCR value, tolerance class and configurations.
Quality
Consistent with the well-known, high-quality standards in Switzerland, IST AG is certified according to ISO 9001:2015 (quality) and ISO 14001:2015 (environment). Appropriate processes are part of our daily work. They are regularly audited and extended parallel to the growth of our company.